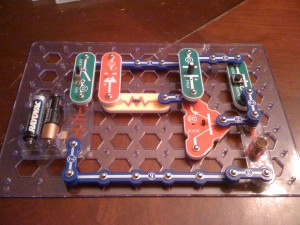 In the months leading up to Christmas '09, I was pondering what to buy for my kids. Instead of the normal brainless and easy gifts like transformers, gi-joes, and barbies, I wanted to get them something that matters, something that will benefit them. As I browsed around the internet, I came across microscopes, chemistry kits, telescopes, bird watching kits. Those were all fine enough gifts ... but they didn't really jump out at me for some reason.  Until I found ...
Snap-Circuits
"Elenco's Snap Circuits makes learning electronics easy and fun! Just follow the colorful pictures in your manual and build exciting projects such as AM radios, burglar alarms, doorbells and much more! You can even play electronic games with your friends. All parts are mounted on plastic modules and snap together with ease. Enjoy hours of educational fun while learning about electronics. No tools required. Uses "AA" batteries. Not included."
Wow, the thought that electronics can be packaged up and easily explained to an eight year old was fascinating. I found one at my local Radio Shack, picked it up, and wrapped it. So far I have to say that I am very impressed with the product and my kids both seem genuinely interested. I thought I was going to have to carefully walk them through it, but they have picked it up quickly and have started doing projects on their own.
The manual is fantastic, very easy to follow instructions, and great descriptions of what's going on in the circuit.
Of course, the only drawback so far is that the batteries drain pretty quickly ... I've already had to replace one set. However, the kids like it so much that I'm considering picking up one of the larger sets along with this awesome battery eliminator that lets you draw power from a wall plug.
I will definitely rate this a buy if you've got kids ... or heck, even if you want to learn more about electronics yourself and don't already have the background :-)